Hey y'all~

I rilly broke in one of my 59th birthday gifts this weekend. The koozie K. gave me at breakfast on the morning of my birfday be stankin' like beer now.
It work good.
I used it Wednesday, Thursday, Friday & Sattiddee to fortify myself w/ sudzzzzzzzzz while mowing all the grass my son, Christopher, neglected while he was in Spain, Gibraltar, Morocco & Portugal.

He still owes me big time even though he brought me some rilly kewl presents: a handmade pocket knife made of bull horn & Toledo steel & a Morocco T-shirt.





Looks like the Heeey Baby Days of Beach Music is moving closer to Broadway.
Check out http://heybabydays.blogspot.com

Casting Call for the play,



"The Heeey Baby Days of Beach Music"


Stage adaptation written by

Nora Lott Haynes




Please send head shot and resume to:

Pyramid Worldwide Productions
155 Westridge Drive
Suite 108
McDonough, Georgia 30253

Or call for more information:

678-432-0780

Note: Scenes from Act One are posted at www.heybabydays.com


I've had all kind of folks ask,

"Whatever happened to

Dave Roddy?"


The Birmingham Rewound website

answers that question by publishing Dave's own autobiography as well as having a link to a 20 minute soundtrack of Rockin' Roddy's old WSGN radio spots from March 18, 1967. Download it now! This is the fifth time I've listened to it!
http://www.birminghamrewound.com/features/roddy1.htm


"Candyman"
With help from Buddy Buie, songwriter/producer/road manager and his connections with several recording stars, my enterprise grew rapidly. He introduced me to the James Gang, Candymen and Classics IV, whose members would later form Atlanta Rhythm Section, and many single acts, including Bobby Goldsboro, Roy Orbison, Mac Davis, Tommy Roe and Billy Joe Royal. Buddy Buie was inducted into the Alabama Music Hall of Fame and continues to turn out big time material. Thanks again, Buddy.
"See the Funny Little Clown"
The first time Bobby Goldsboro ever pulled his "cricket" imitation on me was on the air during a live interview, its origin impossible to perceive. How he created the realistic sound in his mouth, even while talking, remains a mystery. I would have sworn the studio had been inundated by the noisy creatures. Speaking of mouthing sound effects, Roy Orbison practiced his throaty growl while visiting on air with me prior to his recording "I Gotta Woman" and "Pretty Woman." He appreciated my "keep it s-c-r-r-r-r-roungy" intonation. Roy's guttural inflection was later reproduced by David Lee Roth in Van Halen's version of "Pretty Woman." Nobody could ever imitate Roy's vocal range, however.
"Dancing in the Streets"
I enjoyed the benefits of my strong relationship with teens as a concert promoter, thanks to the approval and cooperation of WSGN management. My youth connection was a win-win situation. The little inherited "hop" became the hottest place to go on a Birmingham Saturday night. When "Georgia Pines" was popular, the James Gang drew a huge crowd. It was horrifying when hundreds more people than we had room for pushed and shoved to get in. Fortunately, the kids listened to Sgt. Bob Emerson and my pleas and lined up. For Bob and me, it was a wake up call for much tighter crowd control. The residents complained about the traffic and disruption, but my hop had outgrown that location anyway, and we moved to a larger facility.
"Hang on Sloopy"
There was talk of a great new band from the Carolinas that performed at the Old Hickory Beach Club in Panama City during AEA, 1964. One after the other, in-the-know teens encouraged me to bring the Swingin' Medallions to Birmingham. Several local fraternities and sororities had failed to hire the group due to a contractual stipulation which permitted the Medallions only one day off a week.
"I Get Around"
Undaunted, I trekked to Panama City to see what the buzz was all about. My young talent scouts were right on the money! The Swingin' Medallions big horn sound and high-energy choreography absolutely blew me away. Their thunder and lightning would be unleashed in Birmingham if we could find a way to overcome their contractual obligation. This was a pretty tall order since the group's only day off was Monday...the worst day of the week to promote a hop, right?
"My Girl"
Maybe not ... that branding light-bulb went off again! We'd call it "Medallion Monday" and do it every Monday, all summer long! Based on WSGN's popularity and the group's following, the Medallions agreed to come to Birmingham on a joint-venture. We all took a chance on that day of the week; but the odds were pretty good. We started out at the Hollywood Country Club in Homewood for an afternoon pool party ... you know, throw a little sand around and try to create the beach atmosphere.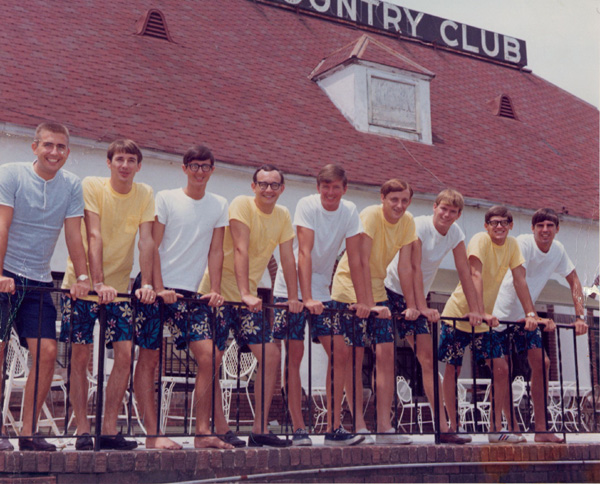 "Hey Baby"
Once again, residents complained about loud music and crowds, so we had to move to another venue. I tried to rent the Cloud Room in the Woodlawn/East Lake area, but they wanted too much money. As it turned out, we really didn't need their swimming pool; so we moved where the neighbors wouldn't complain: the Airport National Guard Armory. Nighttime was the right time for Medallion Monday! My hops were primarily stand-up concerts; a few couples danced, but most people just crowded around the stage, swaying to the beat, hands in the air, singing along: "Hey-hey-aye-baby ... I wanna know-oh-oh ... if you'll be my girl"
"Money (That's What I Want)"
When they came to Birmingham, the young, talented, hard-working guys from South Carolina earned more in one day than they made all week in Panama City. They loved the Magic City and it loved them. Weekly turnouts grew such that we moved to the new Oporto Armory, doubling our capacity and parking. Sgt. Bob Emerson remained as my dependable manager.
"Oh, Pretty Woman"
There were many times that we maxed out Oporto's crowd limits. By law, when limits were met, people in line entered only when someone exited, causing future lines to form several hours before shows began. In addition to crowd control, we learned that crowds are magnetic. As a whole, crowd behavior was commendable. If you were a member of our audience, I applaud you. I'm sure you'd agree the exemplary behavior would not be duplicated today.

DAVE RODDY
The Tommy Roe article I found in the latest issue of Record Collector Magazine has tripped me out.
I am Tommy Roe http://en.wikipedia.org/wiki/Tommy_Roe
crazy rite now.
Wasn't he the opening act for the Everly Brothers at the Farm Center for the '66 Peanut Festival & weren't the girls crazier for him than they were for the Everly Brothers?

The following text comes courtesy of THE BILLBOARD BOOK OF #2 SINGLES by Christopher Feldman

http://books.google.com/books?id=-LgXlQnsDK4C&dq=%22billboard+book+of+%232+singles%22&printsec=frontcover&source=bl&ots=MGtuVkob0O&sig=TOF-lUlXGmYUGjvHbeX90_MKPmo&hl=en&ei=LisjSuPOCZSJtgeM8Ky0Bg&sa=X&oi=book_result&ct=result&resnum=1

TRACES Classics IV featuring Dennis Yost (Buie/Cobb/Gordy) Imperial 66
Peak Date: March 29, 1969 (1 week)
Kept From #1 by "Dizzy"- Tommy Roe

(ed note: one year earlier "Cry Like a Baby" (Penn/Oldham) was #2 for two weeks beginning April 27, 1968 but was kept from #1 by Bobby Goldsboro's "Honey")


Classics IV wasn't a group devoted to classical music. Instead its sound was a mixture of soft rock and Southern boogie that found a huge audience for a couple years, generating three big hits, including the #2 hit "Traces".

Formed in Jacksonville, Florida, in 1965, the group consisted of guitarist J.R. Cobb and Wally Eaton, bassist Joe Wilson, and drummer Kim Venable. In need of a singer they looked no farther that their local movie theater. Dennis Yost had been working as an usher and was only too happy to join the fledgling band. After being discovered by Bill Lowery, the group was given work as session musicians behind artists like Billy Joe Royal and Tommy Roe, and cut a minor single for Capitol Records in l966 under the name The Classics. However, since another 1960s group was recording as The Classics, they emerged as the Classic IV before finally signing with Imperial Records in 1967.


J.R. Cobb and Buddy Buie, the group's producer, wrote a song with Harry Middlebrooks and Mike Shapiro. "Spooky" first gained a little attention in some local markets before finally breaking nationwide, reaching #3 in early 1968. The group followed up that hit with "Soul Train," but it stalled at #90.

At around that same period, a popular trend was for a group's lead singer to receive separate billing, like Tommy James and the Shondells. Dennis Yost became the act's featured member and immediately their fortunes changed. "Stormy" climbed all the way to #5 and set the stage for the band's biggest hit. "Traces" was also co-written by Buie & Cobb, along with Emory Gordy, and made an impressive debut at #61. Within eight weeks, the song climbed to the runner-up position, kept off the top by Tommy Roe's "Dizzy." This was ironic considering Roe was one of the artists the group backed up in the early days.

"Traces" became the group's final Top 10 hit. The act's next single, "Everyday With You Girl," climbed to #19, after which it again changed its billing to Dennis Yost and The Classic IV. However, their hits started missing the Top 40. A change to the MGM label in 1972 led to a brief comeback, but after 1975 the group had stopped charting. However, there were still traces of the band in the music industry. Dennis Yost embarked on a solo career, although his only chart apperance was a 1981 hit on the Adult Contemporary charts. Songwriter J.R. Cobb, producer Buddy Buie and latter-day bassist (?-ed.) Dean Daughtry joined with several members of Roy Orbison's backing band to form The Atlanta Rhythm Section in l974, which remembered its roots by sending a remake of The Classics IV's first hit "Spooky," to #17 in 1979.

May 9, 1942--
Tommy Roe
is born in Atlanta, Georgia. He had 11 Top 40 hits between 1962 and 1971. His first hit,
Sheila
(1962), was a rip-off of Buddy Holly's
Peggy Sue.
His other hits include
Sweet Pea
(1966),
Dizzy
(1969) and
Jam Up, Jelly Tight
(1969). Roe, along with Chris Montez, toured the UK with The Beatles, just prior to Beatlemania.
courtesy of
http://history2.absoluteelsewhere.net/May/may9.html
www.myspace.com/tommyrow

http://www.tommyroe.com/The_Official_Tommy_Roe_Web_Site/Home.html




image courtesy of http://www.goldminemag.com/article/snapshots_tommy_roe_upstaged_in_uk_by_the_beatles/




"Dear Mr. Epstein,

We don't like your boys' sound. Groups of guitarists are on the way out."

This was the opening line of a letter written by Decca Record's London A&R man, Dick Rowe, turning down The Beatles after an audition Jan. 1, 1962. It was the biggest mistake ever made in the music industry.

Undaunted by the rebuff, The Beatles forged ahead like a juggernaut, finally attaining a #1 chart hit with "Please Please Me" in February 1963. March 9, less than a month later, their second U.K. tour began in London's East Ham. Since the tour contract had been signed well before they charted and Brian Epstein always honored his contracts, the boys received bottom-of-the-bill wages consisting of £80 a week (for all four), including expenses.

Americans Tommy Roe and Chris Montez headlined the tour but after the first performance realized it was impossible to follow The Beatles. Roe said, "It was complete mayhem at the theatre with hundreds of screaming girls rushing the stage like lemmings. They were completely out of control, with only a few theatre staff and usherettes trying to keep some sort of order. How could you possibly follow that?" Subsequently, Roe and Montez agreed to drop down the bill, letting The Beatles close out the shows. The same fate would happen to Roy Orbison on his May 1963 tour when the Big "O," with great dignity, also dropped down the bill.

I spoke with Tommy recently at his home in Los Angeles when he recounted, "I got on very well with The Beatles. Every day began with nonstop questions about everything American. Evidently, their biggest goal was to go to the States. Montez was not so popular, always pestering them with questions about who they were and why they were so popular. John nicknamed him, 'The Little Mexican Kid.'

"Montez wondered why John and Paul always had their heads together writing songs, even on the tour bus. In those days there was only one motorway in the whole of England which traversed the 100 miles between London and Birmingham. All other roads were single carriageways and country lanes, so the tour buses had to travel through the night to reach the next gig. The long back seat of the bus became a bed for the exclusive use of the Star. On this occasion, there were two headliners, so Montez and I took turns with the bed.

"En route to a gig in Newcastle, John had enough of Montez's constant questions and roughed him up a bit — nothing violent, just letting off steam — part of the inevitable arguments during touring. After the Newcastle gig everyone was in the theater's bar for sandwiches and drinks when John threw a beer at Montez, soaking the side of his head and jacket. George asked, 'What did you do that for?' and Lennon responded, 'Bloody Hell, I haven't got the price for another pint!' "

The tour finished in Leicester March 31, and they all returned to London as guests of Brian Epstein. Roe explained, "The next night while The Beatles played for the New Musical Express Awards concert at Wembley's Empire Pool, Epstein proposed the possibility of becoming my manager and moving me to England. Felton Jarvis, who had produced my million-selling record "Sheila" for ABC-Paramount record company, suggested, "We'll think it over on our six-day crossing back to New York." (In 1962, "Sheila," written by Roe, was #1 in the United States, Australia and Canada, reaching #3 in the U.K. charts. Jarvis was Elvis Presley's record producer from 1966 until 1977. He and Roe were born in Atlanta, Ga.)

"Epstein, always persuasive and persistent, asked us to introduce a copy of The Beatles' new album

Please Please Me

(released days before) to our record company in America. Felton, who had been on the tour, thought it a great idea and within seconds, Epstein produced the full promo pack — album, press releases, bios and photos — the works.

"On Thursday, April 4, we sailed from Southampton aboard the Queen Elizabeth. I didn't realize it at the time, but I was the first person to bring The Beatles to the United States, albeit in my guitar case. We disembarked at Pier 90 on the morning of April 9 and took a cab to ABC-Paramount, where president Samuel Clark greeted us like the returning prodigals. We were in fact bringing him the tour accounts!

"We had coffee in Sam's office with national sales manager Larry Newton and the company's A&R man, Don Costa. After the usual pleasantries, we enthusiastically presented Epstein's promo pack to the assembled executives. Sam gave the package the once-over, then put the vinyl on the turntable. Side 1, track 1, "I Saw Her Standing There," filled the room with that unmistakable Beatles sound. After a few minutes and less than complimentary looks passing between the execs, Sam suddenly snatched up the record and frizzbeed it into the trash bin saying, 'Gentlemen that was

crap!

' "

In that instant, Samuel Clark made the second biggest mistake in the history of the music industry. Clark admonished, "Now Tommy, you just get on with touring, writing and singing your songs and leave all the business decisions to us. Nice to see you, son. Have a nice day."

Now retired from performing and living in Beverly Hills with his wife, French actress Josette Banzet, Tommy Roe will celebrate his 67th birthday May 9. Concentrating on his golf handicap, photography and travel, Tommy is also planning on penning his autobiography.

You can view Ian Wright's archives of 1960s pop stars photographs at: http://tinyurl.com/Swinging60s

Or contact Ian directly at
ian.wright.photographer@gmail.com

© Ian Wright and Lauren Wright







http://www.stoptheamp.com/index.html
"Mayor Mark" is still stirring the pot in Tuscaloosa.
He's crusading against another waste of the bed tax money by attempting to stop the construction of the amphitheater.



Tell me did the wind sweep you off your feet
Did you finally get the chance to dance along the light of day
And head back to the milky way
And tell me, did venus blow your mind
Was it everything you wanted to find
And did you miss me while you were looking for yourself out there

courtesy of http://lyrics.rockmagic.net/lyrics/train/drops_of_jupiter_2001.html#s03