Subject:
Re: Who Knows What Evil Lurks In The Hearts of Men? The Shadow Sho' Do & He K...
To:
robertoreg2003@yahoo.com
Robert---Tell
El Nixo
I have a great photo of him taken in
Clearwater, Fla
, about
1965
. I think he had come over from
Jax
to interview with
Buddy Buie
for
the Candymen
job. Buddy
was with us
(the James Gang
) while we were playing Clearwater Beach. While visiting us and Paul Cochran at the motel, we baptized him and Buie both by throwing them into the pool. Buddy and I had just gone in together to buy a new-fangled Polaroid portable instant camera (which I quickly managed total ownership of) so I snapped pictures every time we karate-chopped Paul into unconsciousness or tossed somebody into the pool. They had to rope our rooms off after we left to clear out the hundreds of fried chicken boxes stacked around the room, but I don't like to talk about that.
Jimmy Dean
Date:
Tue, 24 May 2005 22:44:59 EDT
Subject:
Re: Billy Joe @ "THE DIRTY BIRD" on June 17
To:
robertoreg2003@yahoo.com
Hey Robert Nix! Well, heck, I may not remember exactly who tossed who, but I got some great pictures of the well-soaked Fred Guarino, you, and Buie. Plus one of Cochran after we knocked him out cold. I was too busy drinking cold beer and eating take-out fried chicken to keep track of the details. Sheesh---I was really hoping you wouldn't remember about your house in Jax that time. I'm pretty sure that was John Rainey's and Wilbur's fault. And Fred's and Bubba's. And the rest of the Candymen who showed up mid week. And also those weird girls who kept hanging around. Not to mention Buie and Cochran who showed up that weekend. I think I was too busy drinking cold beer and eating bologna sandwiches filched out of your refrigerator to have done any real damage myself. Take care of yourself, Dude, and tell the ol' Ox I said hello. I've truly missed seeing both of you guys over the years. If you get down Dothan way, give me a call, and we'll----well, hell, we'll get some cold beer and KFC! Our old buddy Billy Joe Royal will be in town June 17; if yall ain't booked head on down. Buie's gonna be in Canada that week and Justo will be in New York practicing his golf game, so I need some help heckling Billy Joe.
Roberto Register: the tickets are $15.00 each, first show starting at 8 PM I think. I see you found a web site for them; I usually buy them at The Barn, a retail outlet that always seems to sell their tickets. If any of yall make it down, give me a call ahead of time or be sure to look me up once you get there. I'll be the one drinking cold beer and eating----well, you know.........
Jimmy Dean
"robert register"

Subject:
Re: Clearwater Photos from '65
Date:
Tue, 24 May 2005 16:47:00 -0500

JIMMY DEAN , YOU ARE PROBABLY ONE OF THE BEST BASS PLAYERS IN THE WORLD, BUT I'M A LITTLE WORRIED ABOUT YOUR MEMORY CELLS. I THREW THAT FAT BULLY, BUDDY BUIE, IN THE POOL, BECAUSE HE WAS PICKING ON BUBBA. EVERYTIME SOMEBODY TALKS ABOUT THE JAMES GANG I TELL THEM ABOUT THE REAL JAMES GANG. THE ONES THAT RUINED MY HOUSE IN JACKSONVILLE WHEN I BOOKED Y'ALL AT THE COMIC BOOK CLUB. THAT OPENS UP A WHOLE NEW CHAPTER ON INSANE EARLY SOUTHERN ROCK'N' ROLLERS!!! LATER GATOR. ROBERT NIX, THE CANDYMEN. THE ATLANTA RHYTHM SECTION, AND NOW 'DEEP SOUTH. P.S. DON'T YOU LENT HEAD SOUTH ALABAMA BOYS BE LEADING MY GOOD FRIEND, ROBERTO REGISTER ASTRAY!!!!!!!! WE WANT THE TRUTH AND NUTHIN' BUT THE TRUTH!!! I LOVE AND MISS YOU JIMMY, ROBERT!!!!!!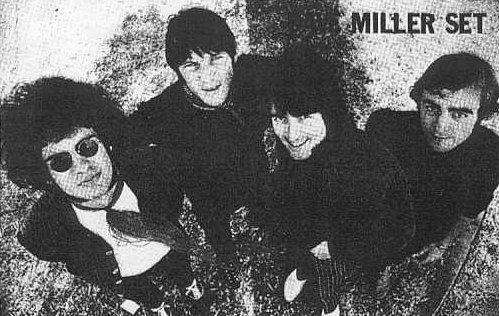 The photo of the

DAVE MILLER SET

which appeared on their '68 EP,

Hope



?/1968


The Dave Miller Set

[Spin EX 11530]


Hope

/ Havin' A Party // Why Why Why / Hard Hard Year

Their next single, appropriately entitled Hope, had a particularly interesting background. The original version came from the 1967 debut album by

The Candymen

, and it was co-written by

Buddy Buie

and

Candymen lead guitarist John Rainey Adams[sic]

. They started out in the '50s in

Dothan, Alabama

as members of

The Webs

, the group that launched the career of singer

Bobby Goldsboro

, a childhood friend of Buie's. When they backed

Roy Orbison

on a visit to Dothan he was so impressed that he hired them on the spot as his permanent band, and and Buie became his tour manager. Renamed

The Candymen

, they worked with Roy for seven years, touring the world, and Adkins played lead on many 'Big O' classics including Oh Pretty Woman. After they left Roy they cut two albums under their own name for ABC and Buie became a successful songwriter-producer, with credits including the Classics Four's Windy and Spooky, as well as hits for Billy Joe Royal and BJ Thomas. In the '70s he set up his own studio in Atlanta, where he put together the session band that became

The Atlanta Rhythm Section

.

Released in April 1968

, Hope

was a quantum leap in the band's studio work. Dave cites it as one of his favourite recordings, and its not hard to see why -- it's a psych-pop classic, a tremendously strong and hugely enjoyable record that brims with confidence and optimism. Dave's vocal is spot-on and the infectious backing, in a brisk march tempo, skips along with some great ensemble playing by the group. It's topped off by Pat's sparkling arrangement for horns, piccolos and strings (with contributions from Sven Libaek, who scored the horns and piccolos). The B-side is a swinging, good-time version of Sam Cooke's Havin' A Party, a perennial stage favourite that Dave often performed with The Byrds which he updated with the namechecks of Stone Free and Strange Brew. The single did quite well in Sydney, peaking at #27, largely thanks to Ward Austin of 2UW who liked the song and was instrumental in breaking it into the chart with regular airings on his afternoon shift.

http://www.milesago.com/artists/dms.htm

From an article entitled Watching Bobby Grow by Jim Bickhart
The spring of Bobby's senior year in high school rolled around along about this time, and one day he found himself sitting in the school cafeteria eating lunch. Word had gotten around that he was doing some picking ( not many high school kids were doing too much picking those days, especially the all-star baseball players ), and the guys in the school's " biggest" rock and roll band asked Bobby to come jam with them one afternoon.
"Somewhere they got the idea I was pretty good," laughs Goldsboro. "I mean, I was trying to write some stuff and working out rhythm parts, but I was mainly good at figuring out the chords to songs right off. So I go over to where they were set up and watch their guitar player do Chet Atkins picking. He was sloppy, but it was recognizably ambitious, and I was real impressed.
"They were trying to work out some old Rick Nelson hit; something like 'Poor Little Fool'. It had a real straight progression, but they couldn't get the minor chord. So they asked me and I knew it right away. Played along with the record, and they were impressed. A couple of days later, I got a phone call from one of them, a deep-voiced kid named John Rainey. He asked me if I 'wanted to make $10 this weekend playin' at a teen dance.' their lead singer was going out of town and they needed an extra guitarist so Rainey could sing. I figured 'why not?' Playing guitar was a lot of fun and if someone would pay you to go someplace and do it, who was I to refuse? "
A rehearsal or two later, Bobby was ready. The band had him memorize a couple of Rick nelson's hits, including the aforementioned "Poor Little Fool," and told him he'd have to sing those at the gig. His attempts to beg off failed, and he went into his first job as a guitarist technically, if not mentally. prepared to make his singing debut as well.
"I kept stalling around," he says, "finding some other song to play every time Rainey asked me to sing one of my numbers. Finally, in the middle of the second set, we ran out of alternatives. So I moved my microphone over behind a pillar and hid while I sang. Right in the middle of the song, Poor Little Fool, some girl stuck her head around the post to see who was singing and nearly scared me into forgetting the rest of the song. That was my first public singing experience."
By summer, he was in this band, called the

Webbs

, fulltime, wearing his hair greased back, dressed in a sport coat and tie decorated with spider webs. They were just about the only truly competent band in the area of Dothan and it was paying off in terms of employment.
"When I went off to Auburn, I stayed with the band," explaines

Goldsboro

, "I'd borrow my brother's car or take a bus and go back to Dothan for weekend gigs. I was majoring in Business Administration and doing okay, but I was really beginning to think about music a lot. My second year, Rainey and the bass player came to Auburn too, we found a new drummer and became the hot band on campus.
"Being the campus rock and roll band was pretty good," he continues. "I wasn't the coolest guy around, my hair all slicked back and being so short and all, but all the fraternities were rushing me, inviting me to parties and being real friendly. I took everything I could get but never joined a one of them. I figured they thought they'd be getting a free band for all their parties and I wasn't buying that."
Bobby remembers one big weekend when adjacent frat houses threw competing parties, one hiring an equally renowned band from Florida State; these two bands dominated the college dance and party scene in the Southwest that year, and the overflow crowds at the two parties poured out into the street all night.
"Those parties were really wild, " he says, "everyone hot and sweaty, dancin' in that humidity, while we'd be up there in our outfits, cool as you please, playing away. Our big number was

'Walk Don't Run'

; we had the

Ventures

down cold."
Between the weekend gigs at school and the vacation dates around the South, the

Webbs

were beginning to build up a widespread reputation. Their travels took them from Florida all the way to Missouri, with each musician earning up to $100 a night.


By the end of Bobby's second year in college, an old high school friend named

Bubby Buie

had become more or less the manager of the

Webbs

. Buddy, now a prominent producer and writer in Nashville, had notions of becoming an enterpreneur as well, so he began to book concerts. The

Webbs

, of course, always managed to be on the bill.
"He was trying to get Conway Twitty for four gigs in different cities," explaines Bobby. "Twitty had had a couple hits but he was overpriced, so Buddy went after

Roy Orbison

, whose last four records had all gone top ten. He was nearly the hottest thing going, yet his price was real reasonable. He'd just fired his band, so Buddy promised him a backup group that was really hot. that turned out to be us; we went out and bought some Orbison records and copied the arrangements, and it worked out surprisingly well.

Orbison

asked us to become his permanent group."
This unexpected offer placed Bobby and his colleagues at a threshold of decision; should they run off seeking fame and fortune or stay in college?
"I wasn't too sure of what I wanted to study," recalls Goldsboro. "My main interest was now music, I was making good money at it, beginning to wrote songs, and the band was sounding good. We thought we could do it, so we accepted Roy's offer. It was, looking back on it, pretty daring, especially by today's standards. I'd never do it again, but I'm glad I tried it once."
What Bobby and the Webbs tried was the road, for two and a half years with Orbison. Roy would fly between cities while the

Webbs

would travel by car. They went through all kinds of hassles, from freezing in blizzards to sleeping five to a room to earn their baptism by fire.
"We didn't make a whole lotta money either," says Bobby. "I remember my last full year with Roy, 1963, I was able to travel all over the U .S. and Europe, with Roy paying the bills, but at the end of the year, when I filled out my tax form, I realized I hadn't made any money. I said to myself 'this is getting out of hand.' I had just gotten married, I was literally seeing the world and still I didn't have anything in the bank. My wife was putting up with a lot then, and she deserved better. We both did."
It was the

Webbs's

vacations that proved to hold the key for Bobby's escape. Back in Dothan, after coming in from Roy's tours, the band would find some gigs on their own or head off to Birmingham

{beginning of typographical error-ed}

bought a couple of our master tapes and sold them to four different people simultaneously. Then he disappered off to Puerto Rico or somewhere. It was pretty funny, expect that one of the people who thought he was buying sole rights to our tapes was Jack Gold, then an independent producer. He apparently liked my voice and compositions.
Bobby, who had taped some intermittent local success with a couple of

Webbs

singles, was now looking forward to the big time in a big way. To his surprise, however, Jack Gold had founded him a tune called " Molly", about a blind soldier returning from the Civil War.
"I looked at the lyrics he sent me in the mail," says Bobby, "and I really wondered. 'This is gonna be my first record in the big time? I was disappointed at first, but I learned that Jack had a pretty good ear for hit ballads. "Molly" made the lower part of the top 100, so it got me going. Two follow-ups bombed though, so I was essentially starting over again when Jack was hired by United Artists at the end of 1963."

Bobby had continued writing during this period, still touring with Orbison ( including one to Britain on the bill with the Beatles ) and working with the

Webbs

. But he was getting itchy, and began working on Gold to let him record some of his own tunes. Gold finally relented and along with a pair of nonoriginals, Bobby cut two of his own songs in New York in October, 1963. One of them was "See the Funny Little Clown".
"See the Funny Little Clown" rose into the national top ten during a turbulent period for the American culture. People were in shock over the recent assassination of President Kennedy, looking for ways to escape the memories. It was a time ripe for newcomers who could provide an outlet for the pentup emotions of the time.

Bobby Goldsboro

got his foot firmly in the door, followed closely by an enormous flood of British artists led by those same

Beatles

with whom Bobby and Roy Orbison had toured earlier in the year.

http://www.chichibu.ne.jp/~keiki/watching-bobby-grow.htm