Hey y'all~
image courtesy of
http://profile.myspace.com/index.cfm?fuseaction=user.viewprofile&friendid=43292523
I may have discovered the TRUE REASON
Coleman drank Schlitz.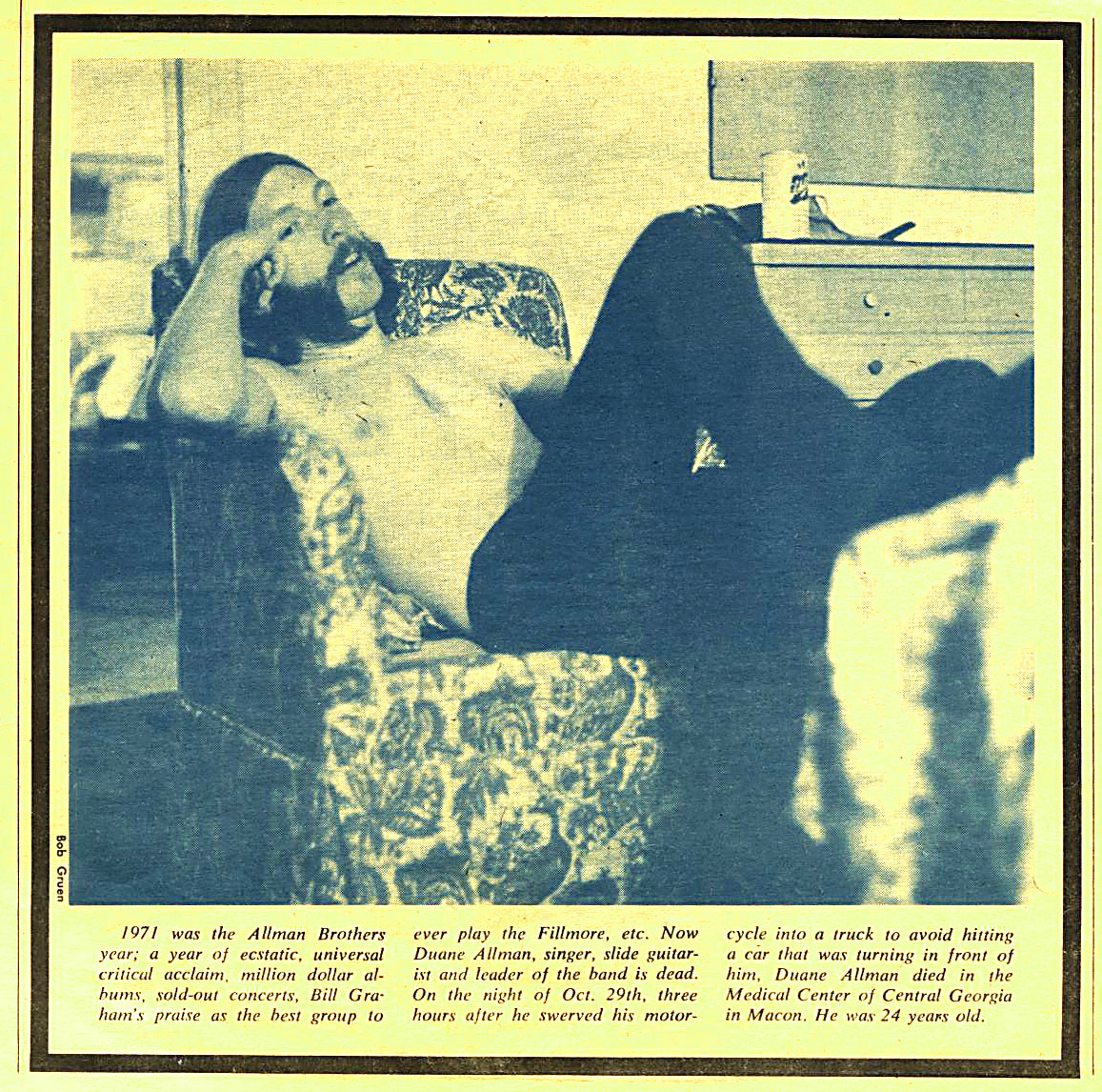 image courtesy of
http://southerngaragebands.com/
I'm so proud of Jimmy Dean for getting our images of THE JAMES GANG to the SOUTHERN GARAGE BANDS site. Check it out~ pretty kewl...
http://southerngaragebands.com/JamesGang.html
James Gang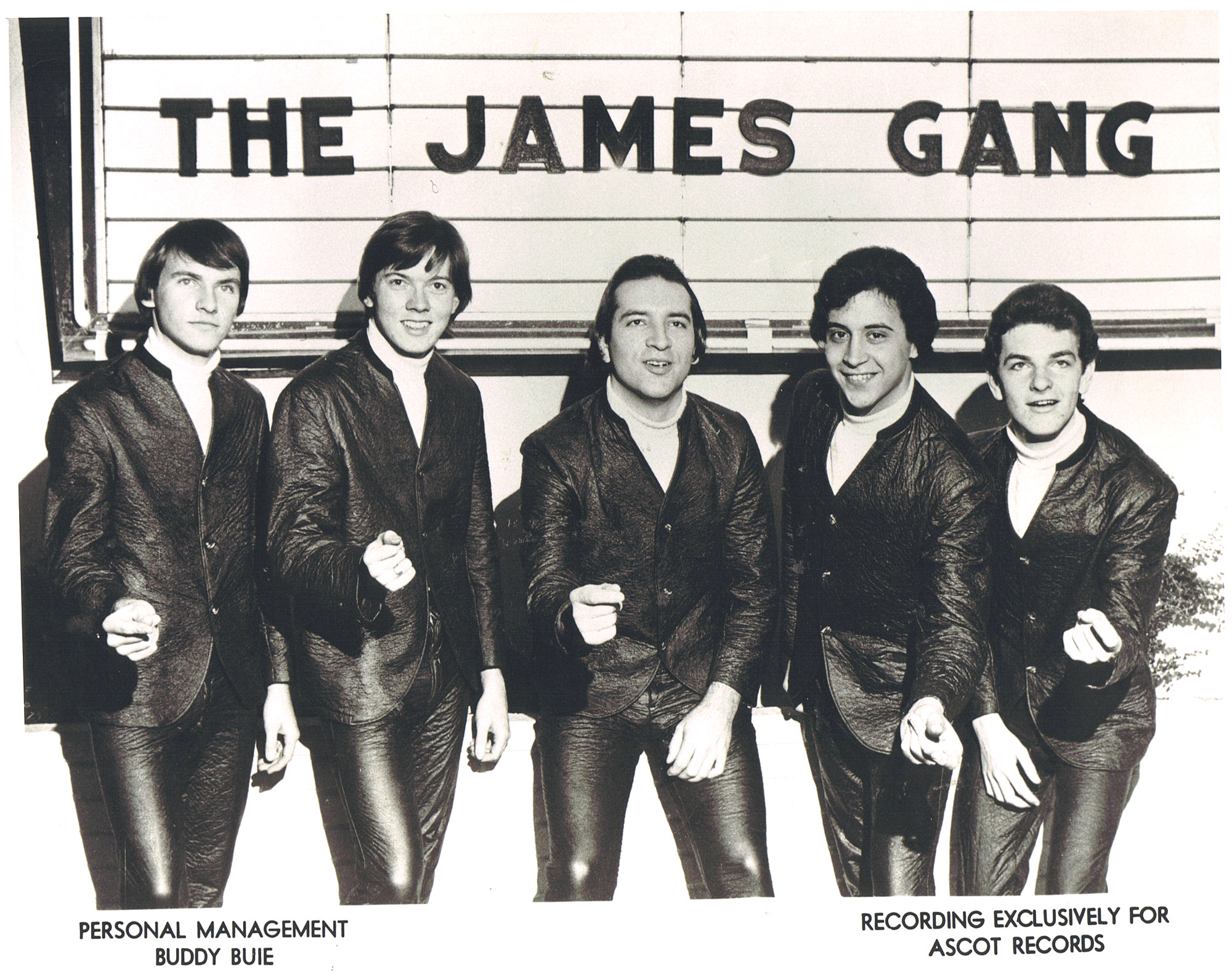 James Gang.
Photograph Courtesy of Lindsay Swida 2005.
---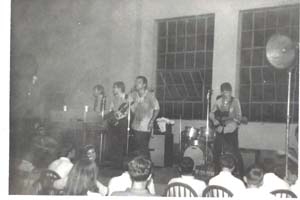 Jimmy Dean, Bass Player of The James Gang sent us this history. Thank you, Jimmy!
History of The James Gang

In October, 1964, songwriter/record producer Buddy Buie, who was
manager of Roy Orbison's backup band The Candymen (originally known as The Webs, which
included Bobby Goldsboro as singer) put together a second group which he named
The James Gang. The band was made up of Wilbur Walton, Jr. and me (Jimmy Dean)
from a second version of The Webs that Buddy managed, and Fred Guarino, Bubba
Lathem, and Johnny Mulkey, from another of his groups, The Ramrods of Birmingham.

That winter, the group released a couple of songs on United Artists' Ascot
label which did well in several markets, hitting big in Birmingham and around
the South. A session followed at Fred Foster Studio in Nashville, where the
group recorded a Buddy Buie/John Rainey Adkins song, "Georgia Pines". The song did
well in the south, the midwest, and several western markets.

The James Gang signed with the Bill Lowery Agency in Atlanta, which was
already booking many other southern acts, including Billy Joe Royal, Joe South,
Tommy Roe, The Candymen, The Tams, and The Roemans. Buddy and his business
partner, Paul Cochran, moved to Atlanta and partnered with Lowery.

The James Gang began recording at MasterSound Studio, located in the same
building as the Lowery Agency, cutting several songs. One of them, "The Right
String Baby But The Wrong Yo-Yo", written by William "Piano Red" Perryman, became
another regional hit for the group. The group toured until fall of 1967, when
bookings began to thin. At that point the original group broke up. Wilbur
continued to play the James Gang jobs that came into the agency by picking up
various musicians for the dates.

In 1969, Wilbur convinced Fred Guarino and me to rejoin him on the road.
Marvin Taylor, formerly with the K-otics, was the guitarist. As a four-piece
group, we played what was left of the dying hop market and college fraternities but
time had moved on. Buddy was focusing on putting together another group, made
up of some members of The Candymen and The Classics Four, which became the
Atlanta Rhythm Section. He was also involved in opening his own studio in
Atlanta, Studio One. Another group up north had taken our name and was having
nationwide hits. In 1970, we gave it up.

By this time, John Rainey Adkins, founding member of The Webs (later The
Candymen) had returned to Dothan, Alabama and started a band he called
Beaverteeth. I was freelancing as a commercial artist when he asked me to join the group
in May, 1972. I did, and a year later, Rodney Justo, formerly lead singer of
the Candymen and the first lead singer of the Atlanta Rhythm Section, called
and said B. J. Thomas, who he was now working with, needed a back up band. As
Beaverteeth, we (John Rainey Adkins, David Adkins, Charlie Silva, Rodney Justo
and I) worked with B. J. for several years in the seventies.

As far as I know, Wilbur never worked with another band, though he still
considers himself in the music business. Some of his songs still get airplay in
Europe. Johnny Mulkey stayed in music, working for a while as bass player for
Joe South. Fred and Bubba never got back involved with music. Fred passed away
in 2006.

Jimmy Dean
bass player, The James Gang
---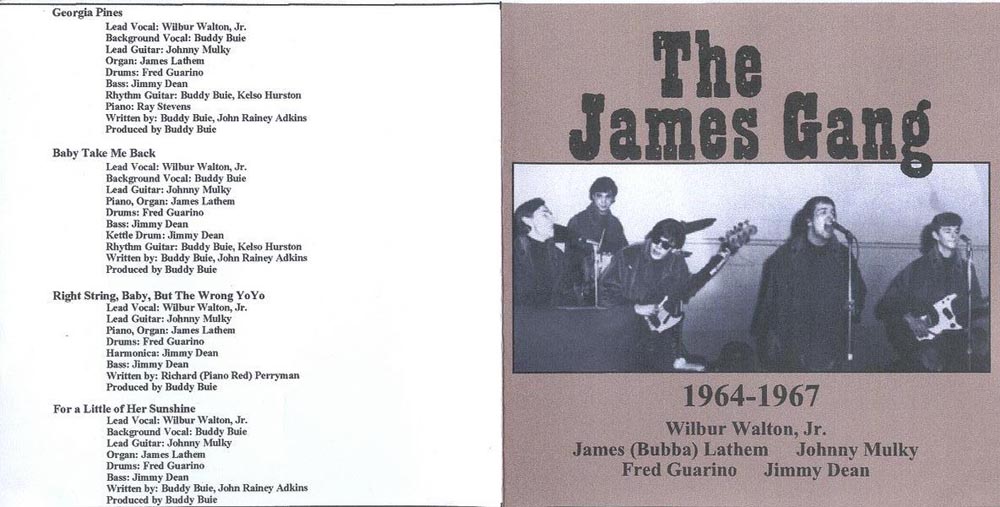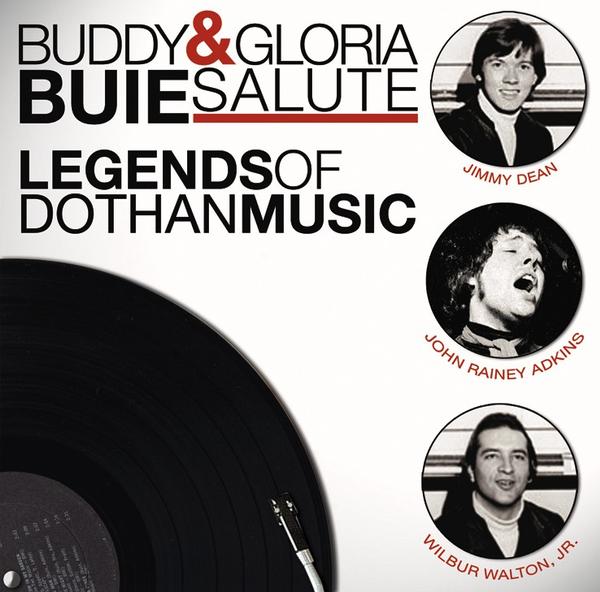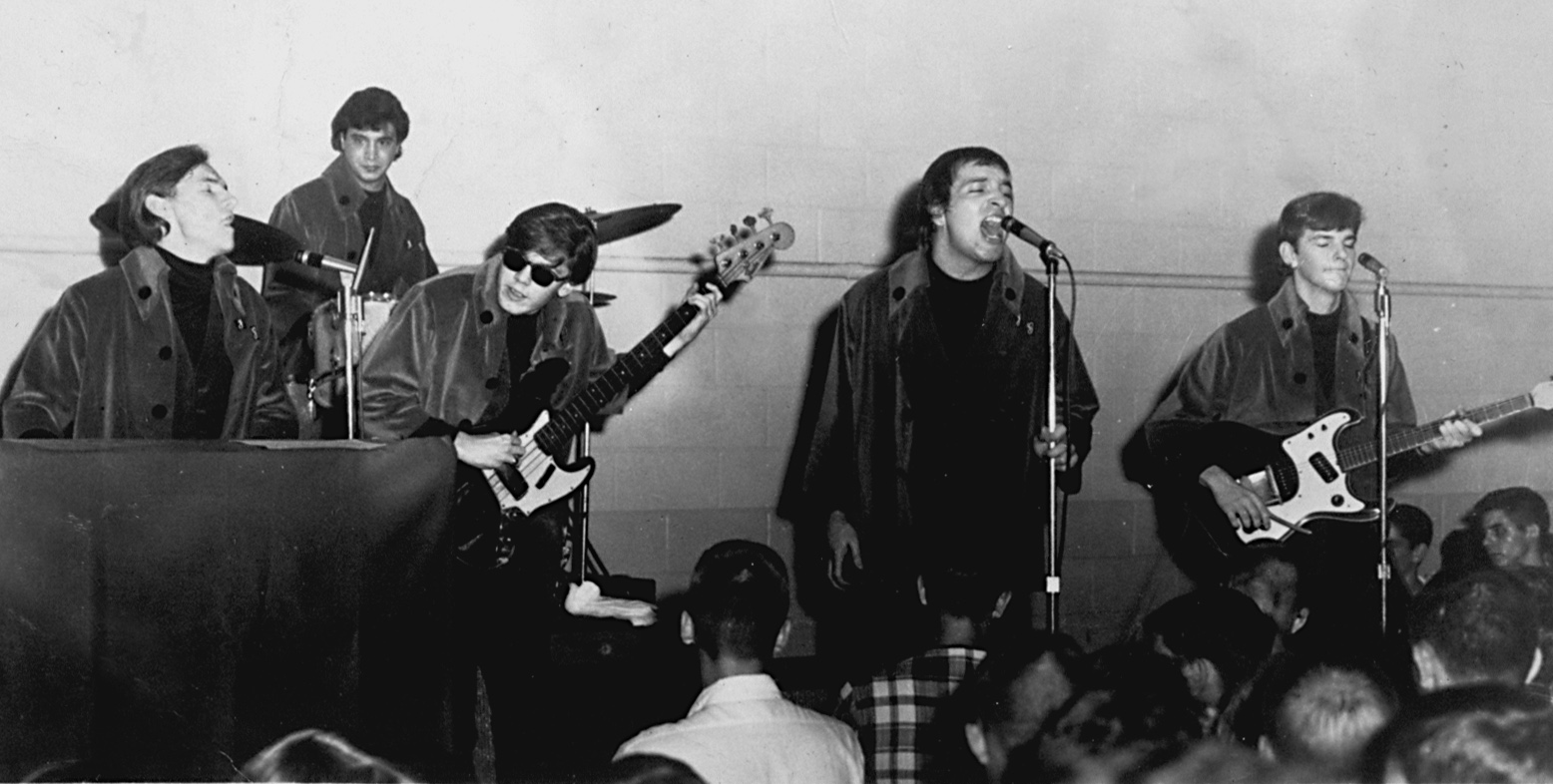 Here's a story about the James Gang, from a guy who knew them well -- Johnny Wyker of the Alabama group "The Rubber Band". This story first appeared in Wyker's Mighty Field of Vision newsgroup:

"About the same time that the Rubber Band was on it's last leg the same thang was happening to The James Gang...the Southern James Gang...which featured Wilbur Walton as their singer...the other members also doubled as The Candymen when they backed up Roy Orbison....most of those cats later formed The Atlanta Rhythm Section...Buddy Buie from Dothan produced both The James Gang and ARS...I used to go to Hotlanta back in the 60's and stay with Buddy and Robert Nix...Nix was the drummer for these groups in those days...and now all of a sudden I just remembered where I lost my first wedding ring...and that was at Nix's apartment..damn I'm firing some old memory cells tonight...amazing how the old human mind can be inspired to recall events in the long lost past .....

Anyway...when the Rubber Band finally snapped and broke up I still had a bunch of gigs lined up to play and no band to do it....the Christmas party session was about to happen and Wilbur Walton was also left with all of the gigs that James Gang had contacted to play....I had know Wilbur for years...when I was in high school I used to go down to Tuscaloosa and attend all of the fraternity rush parties and Wilbur was in college then and he was a member of The Sex Above Everythang Frat...in laymen's' terms that would be The SAE's......anyway Wilbur called me one day and said that he was holding a bunch of James Gang gigs and that he would pay me to put a band together...I think he offered me some pretty good money too...so I told him that I had the same problem...gigs and no band...so the best way to solve the problem was to put one band together to cover ALL the gigs......

One night we were The Rubber Band and maybe the next night we were The James Gang......I played bass and I hired Court Pickett to sing....and Lou Mullenix on drums...and I think Jim Coleman was on keyboards...and Tippy Armstrong played guitar on some of the gigs and Ronnie Brown played guitar...and on some gigs Frank Freidman played a second guitar....Frank was a founding member of THIS SIDE UP....

Court sang lead when we were The Rubber Band...and Wilbur sang lead when we were The James Gang.......this worked out pretty well at first when the gigs were far a apart....and in different towns.....we were all making great money and having a ball doin' it.....except when Wilbur had to do the singin'.....by this time he was a real big drunk...and would not sing until he was totally juiced up...it took us a while to get his M. O. down...he would say the PA was broken and tell us to stall with more instrumentals....we finally figured out what he was up to...and we just played a bunch of freeform jams...remind me to tell the cat tale of how we brain washed a crowd in Auburn with a one chord groove that put the whole place in a trance dance.....

Anyhow......thangs were going fine until about the middle of the Christmas session and we played a gig in Mobile as The Rubber Band....then the next night in the very same building we came in as The James Gang...we got away with it until the third night when we played the same place for a different girls club as The Rubber band again.......it was really scary to be on the bandstand and to watch people in the crowd whispering to each other...you could read their lips..."Was'nt that the same guy that played with..so and so band.the other night......well.... I don't know how we ever got out of there alive that last night...but we did......I'mure their was some fast talkin' involved and some fast cars too.....!"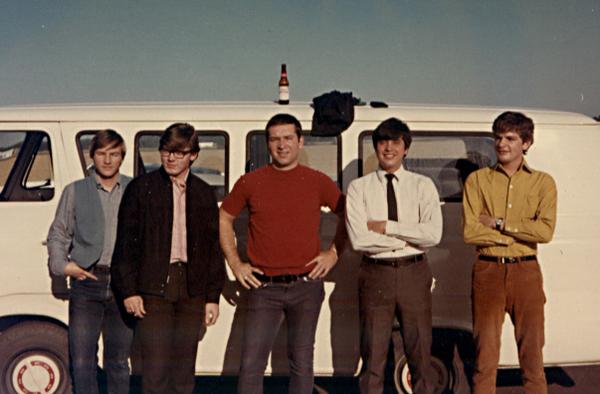 The James Gang playing a gig in Wisconsin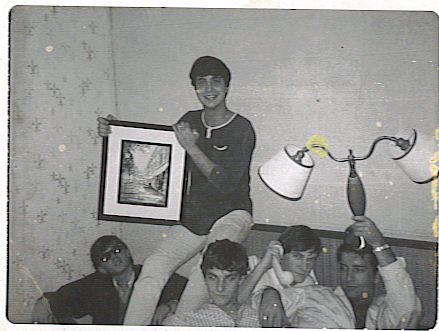 It was quite a party!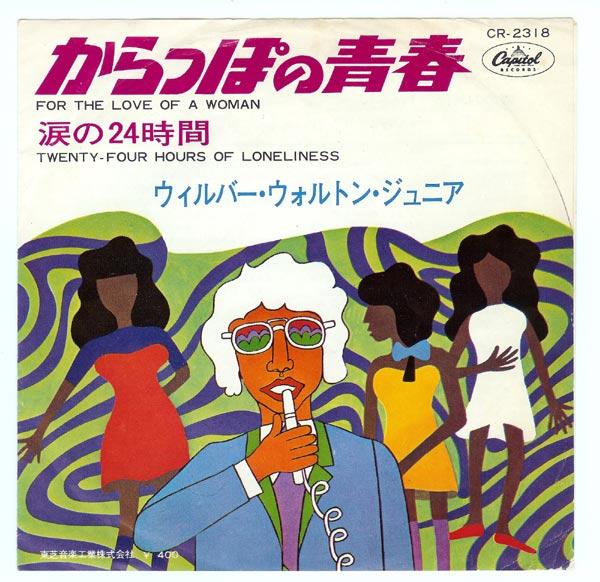 Chart toper goes international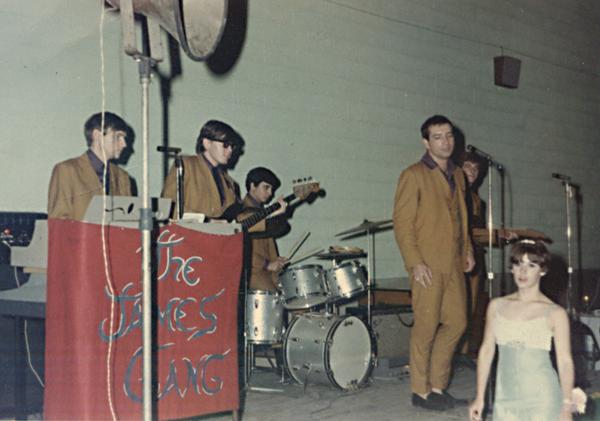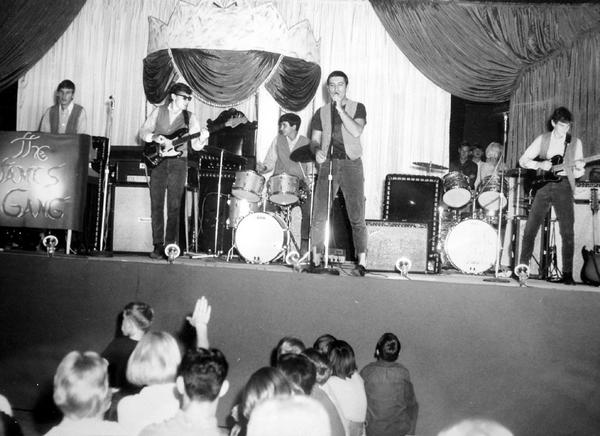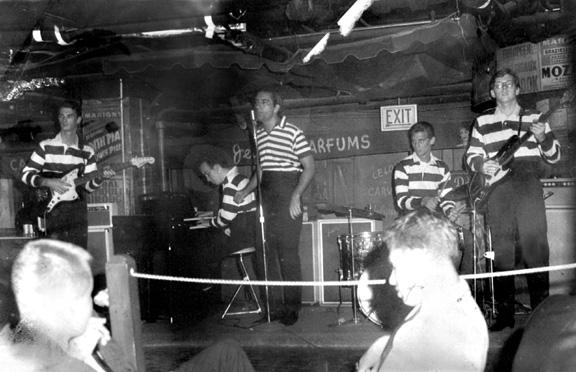 The James Gang played weekend dances, high school proms and after football games all over the southeast.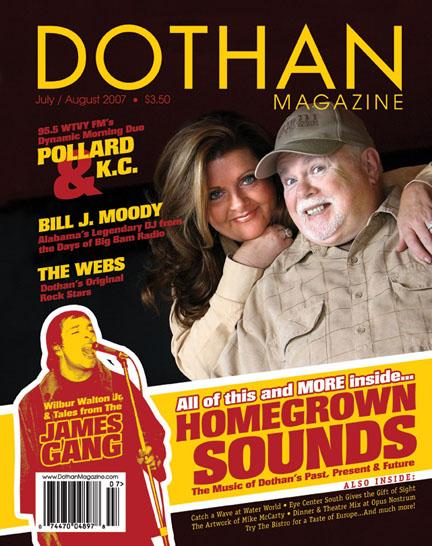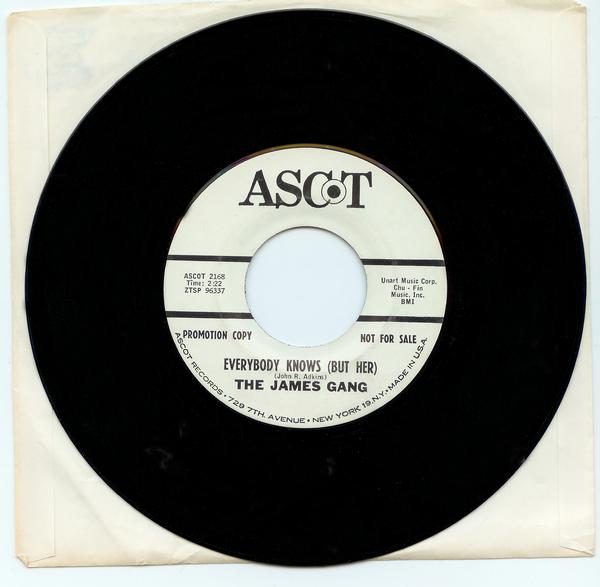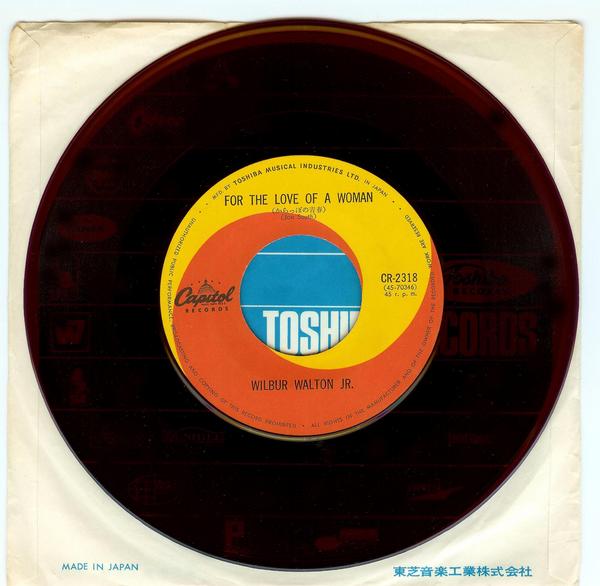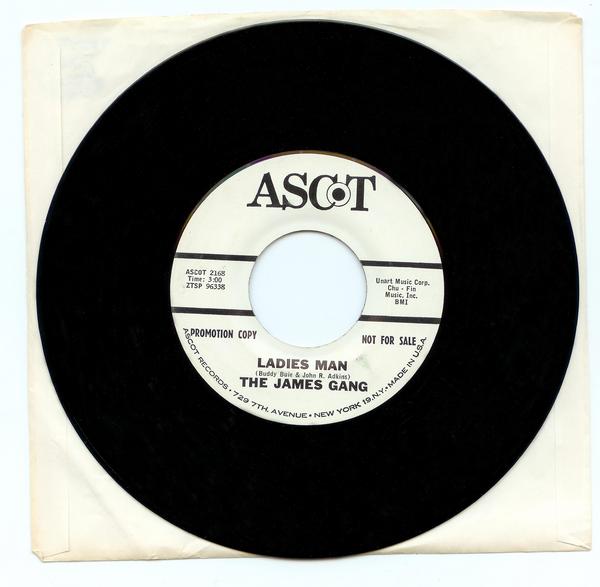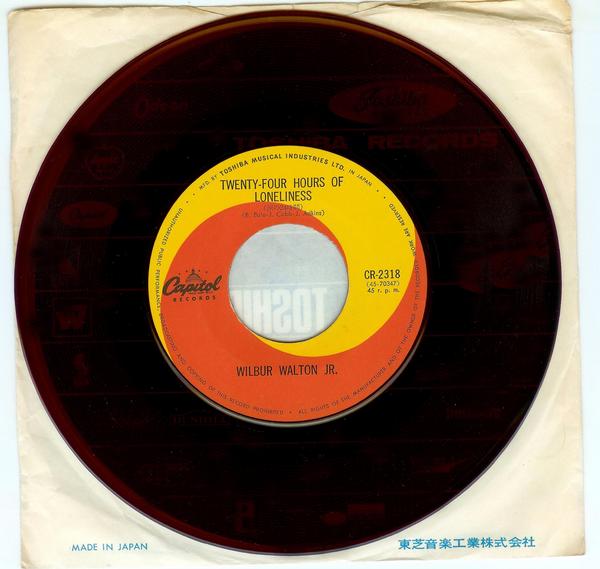 James gang hit 45 RPM records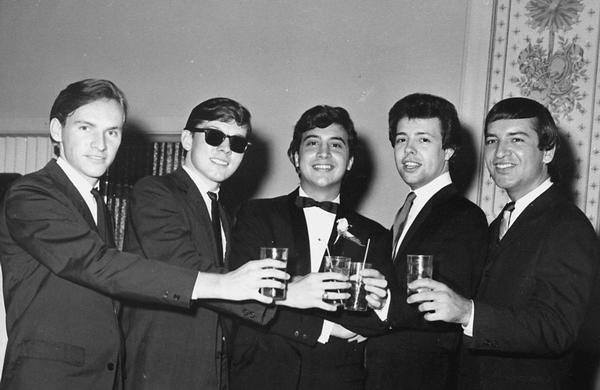 At a wedding
R E U N O I O N PHO T O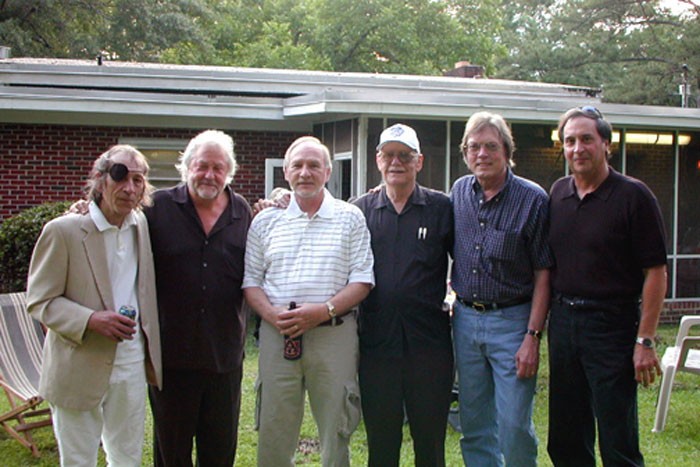 Photo taken at 2004 James Gang reunion in Dothan, Alabama
L to R: Wilbur Walton, Jr., Buddy Buie (manager), Bubba Lathem, Paul Cochran (manager), Jimmy Dean, Fred Guarino, (not present: Johnny Mulkey).
Picture courtesy of Jimmy Dean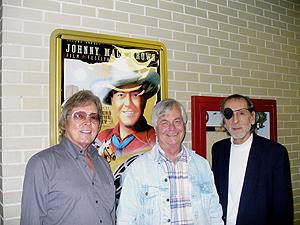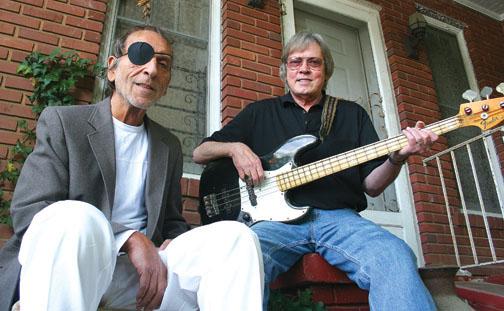 Wilbur and Jimmy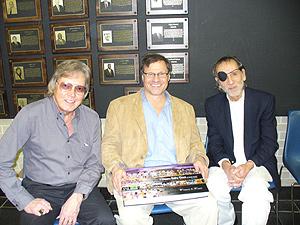 Jimmy and Wilbur with Greg Haynes, author of The Heeeeey Baby Days of Beach Music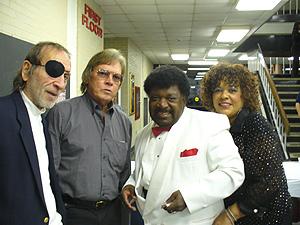 Wilbur and Jimmy with Percy Sledge
THE GUYS TODAY: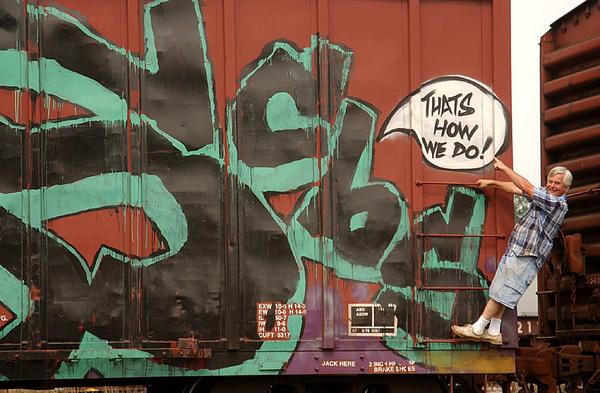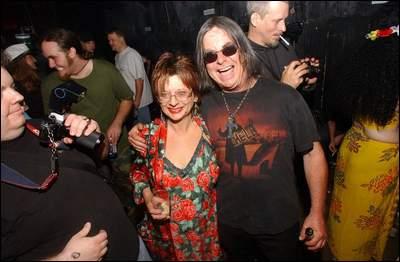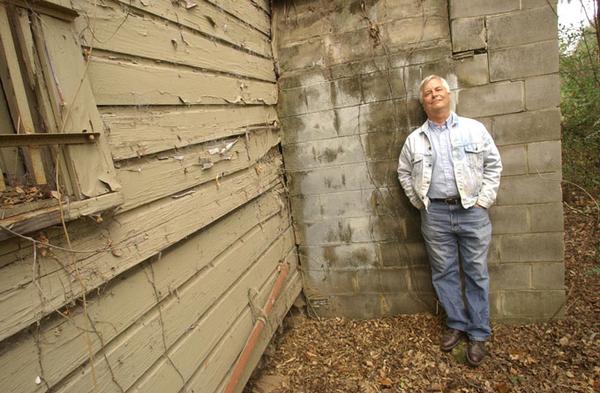 Michael E. Palmer
Photos and info. courtesy of Jimmy Dean, bass player for
The James Gang
© DaveandAndy 2008
tuned up
SUMMER OF '64
image of the Pranksters by John Earl
http://photographybyearl.net
Hey Dothan Tigers~

Now right here we have a true blue artifact of
'67/'68 Dothan psychedelia!
(in fact, I stole a line from this poem for my term paper at Bama in Pat Green's Religion In America class. Buster won't appreciate it but the paper was called CAMPUS CRUSADE FOR CHRIST~ A Growing Dwarf
& I made an A!!!!)

Caustic Corn Flakes
by Bruce Wallace

Ah, vapid world, speak your phlegmatic mood;
Whipporwill, breathe your plaintive melody;
Deathwatch, tick to my timely fall.
I will endure your pricks ---
I will listen, for my name is not
Progress.
Son of a gun! It's the water theologian, back again.
Aren't you black and blue from our last encounter?
Oh, I see; you persist:
Love is dead?
Life is dead?
God is dead?
You are dead, solemn man.
Oh, the shotgun man, the shotgun man, as you
Consecrate enscription,
Deny affiliation,
Place your hand in other's hand, in
Debonaire debenture.
You're an air mechanic.
And your friend, the galvanic medusa,
With her lips of smoldering lettuce
And her measured strokes of cancer
And her anti-connubial medallions.
She cannot see my mecca.
Zounds! With lightning-like accuracy, here they come:
Fantastic Ferny and his Frugal Fuddie-Duddies!
Quite astounding! Quite absurd!
Nevertheless, the company breaks through to enforce
a surcharge on conventionality.
"Sound the retreat!" Benny Bugler is told,
As he trumpets a tune for all ages but old;
Wounds are exchanged, then they all go inside
To their littered apartments to cower with pride.
Drugs are the bane of pigs.
Hear you talkin':
"Land O Goshen runs for another term,"
while Baseman lies, stunned, in your institute of
correction.
You say you are a growing dwarf.
Today is the birthday of soul.
Upon each rung of Zebedee's ladder
You feel yourself ascend,
Dazzled by illumined gladiators of love,
Tempered with peachy sun speckles on
some close faraway glen,
Or splashing through wafts, waves, and waddling humanity.
Living all?
You hypocrites! Man tastes like a spoiled guava.
What mean you, forty-watt Philomel?
Hush, or I'll unplug you.
Hear me, all you Quack Quakers, led by a
pyromanial Cupid, who tire and
constrict my soul ---
Leave me with my blues.