left to right: Larry Holmes,
Frank Tanton
, George Cheshire,
Kenneth Griffith
, Lamar Alley.
This was the house-band for the Flamingo Club in Dothan back in 1972.
[
HEY FRANK!
How 'bout shooting me that pic of the version of
BEAVERTEETH
with Kenneth in it. Where it went is a mystery to me. I suppose it went straight from your email to the Internet and then into oblivion. It sho' didn't end up in no file.Sorry to trouble you.]
From : Kenneth Griffith

Sent : Sunday, February 26, 2006 1:28 PM
To :
Subject : A year in the life




Hi, Robert.

I'm enjoying reading you blog and looking at the great pictures. I never have found a copy of that first Atlanta Rhythm Section album on CD. Rodney Justo probably knows where some are, but I don't know how to get in touch with him.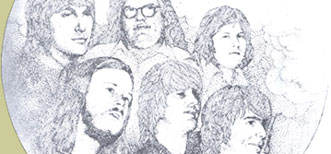 http://www.atlantarhythmsection.com/

Some of the things you've posted recently reminded me of things in my past. If you'll indulge me for a few moments I'll tell you about it.



I was barely 19 in the fall of 1970 when my parents took me to the Greyhound bus station in downtown Dothan where I boarded a bus for Muscle Shoals. A job was waiting for me there as the staff bassist in a little second-tier studio named "Widget." The studio was not far down the street from Muscle Shoal Sounds studio. The house band at Widget was to work on projects for the studio plus cut demo tracks with the Muscle Shoals Horns, which was then comprised of Harrison Calloway, Ronnie Eades, and Harvey Thompson. In my time there I recorded a fair amount of material that never saw the light of day as far as I know, and remember recording one demo for Harrison Calloway that was later recorded by Z.Z Hill. Joe Cocker and Leon Russell were recording at MSS while I was at Widget. I didn't meet Eddie Hinton but he was there, and I heard he had recently sold his Lincoln to pay for strings to be put on his record. I met all the Swampers: Barry Beckett, Roger Hawkins, Jimmy Johnson, and Roger Hawkins. I also met Donnie Fritz, whose grand piano was used on a lot of Widget recordings. There was also buzz in MS about a band from Florida that had recently been there but had move on: Lynyrd Skynyrd. They were still a few years away from hitting it big.


http://www.great-music.net/wyker.htm
[wwwwwwwwwwyker & Court Pickett also recorded at WIDGET.-ed.]

Despite being at the fringe of all these great things, Muscle Shoals was very cold for a boy who'd grown up in the milder weather of the Wiregrass, and I got homesick. When David Adkins called me in the spring and told me that he and John Rainey were putting together a new band that would also be the staff band for Playground Studio in Valparaiso, I was ready to come home. That band became the original Beaver Teeth. The lineup was David Adkins on drums and vocals, Lamar Alley on vocals and guitar, Larry Shell on vocals and guitar, John Rainey Adkins on guitar and vocals, and me playing my Hofner bass. Larry Shell was a great singer/songwriter who later went on to some success as a song publisher in Nashville. Beaver Teeth was named by John Rainey because of Larry's prominent buck teeth. That was a good band, and was to my thinking the most unique of the several Beaver Teeth incarnations, though later versions of the group may have been better. I recorded quite a few sessions at Playground Studios with Larry, David, and John Rainey. That was a great time for me, but it didn't last. Late that summer when I just turned 20, Larry and Lamar left the band. We had made a couple of trips up to Atlanta to see the new studio Buddy Buie was building in Doraville. Me being on the chubby side, several people thought it would be a good idea for me to see Dr. Rankin, whose office was in the building housing the Buie/Cochran offices and the old Mastersound studio, where the Classics IV and Candymen had recorded. Actually a lot of hits of the late 60's came out of that Mastersound Studio. (One aside about Playground Studios in Valparaiso, Findley Duncan operated that studio for years, and he had old tapes of the Allman brothers (just the brothers, not the band) when they'd recorded there.)


photo courtesy of http://paulcochran.com
The '77 version of BEAVERTEETH
L TO R: Jeff Cheshire, David Adkins, Rodney Justo, Larry Hunter, Mike Turner, John Rainey Adkins


On one trip to Atlanta, I remember cutting a couple of songs for Wilbur Walton when Studio One was new. David played drums, Paul Goddard, the great ARS bass player, played rhythm guitar, I played bass, and I think Dean Daughtry played piano. I bet Wilbur still has those tapes.


image courtesy of James Hodges
The Japanese version of 24hrs. features a psychodelic Wilbur sporting a

deep tan

.
He be done bleached out by now.


After Larry and Lamar left Beaver Teeth, David moved to guitar, Frank Tanton was added on keyboards, and Charlie Silva came in on drums and lead vocals. Charlie was a great drummer and singer, but his biggest talent was that he could do something called the "helicopter" with a certain part of his anatomy. This also made him quite popular with the ladies. That version of Beaver Teeth only lasted a couple of months, but we did record some sessions at Studio One, with Ronnie Hammond as the engineer. Frank and I then left the band. I was replaced by Jack Lane, who had to have been the best bass player in the world--he was phenomenal. Clark Craits took over the keyboard job. Jack Lane was the bass player for several months, and when he left Jimmie Dean, another really great bass player took over that job, keeping the bass chair for several years.



B.J. Thomas with BEAVERTEETH when they played The Bitter End in New York City
l. to r.: Rodney Justo http://www.teddwebb.com/showcase/where_are_they_now/rodney_justo.html, David Adkins, John Rainey Adkins, B.J. Thomas, Jimmy Dean, Charlie Silva, Jon Stroll http://yourmusicconsultants.com/



After I left Beaver Teeth, I played with almost every band in Dothan: Norman Andrews and the Concrete Bubble, Wilbur Walton, Jr. and Blackhawk (we played one summer at the Hang Out in PC), Strawdawg, MG and the Capers. In my mid-twenties I went off to school at Auburn to study agronomy and have never played professionally again, though I still play and try to keep up my chops.



This is a long letter, and somewhat self-indulgent, but my life has crossed that of a lot of the people's whose stories you've been posting here, and I think I may have filled in a few details.



Thanks for reading. I still wish I could find that ARS CD!



Kenneth


From:
Jdean
Date:
Sun, 26 Feb 2006 12:31:22 EST
Subject:
Re: "Cuba, Alabama" Solicits Your Feedback Before Composing Tonight's Post!
To:
robertoreg2003@yahoo.com

It's great to hear from my ol' buddy Kenneth Griffith! He's given a good history of Beaver Teeth, reminding me of things I either have forgotten or didn't know. Kenneth doesn't do himself justice though---he was a truly fantastic bass player who we all loved to listen to. He played a fretless bass, which blew my mind. I tried playing one of those things and just couldn't handle it, so I stuck with my old Fender Jazz.

I didn't know Jack Lane and don't remember him--I took over the bass job in Beaver Teeth from Claude Bell. I stayed with the group for several years. It was during this period that the group became, thanks to Rodney Justo, B. J. Thomas' backup band. The line up was Charlie Silva, John Rainey Adkins, David Adkins, and me. Rodney would come on stage with B. J. as backup singer and guitarist.

After Charlie Silva got sick, Rodney came up from Tampa and became lead singer. At about that time, disco music was taking over, and after several months it became clear that to keep working we would have to change from our mostly Southern Rock-style to the disco format, which I intensely disliked, so I chose that time to quit music.

It's good to hear from Kenneth (who Farley Taylor once introduced on his radio show as "Little Kenny Griffin!").

Jimmy Dean





From:
"rodney"
To:
"robert register"
Subject:
Re: "Cuba, Alabama" Solicits Your Feedback Before Composing Tonight's Post!
Date:
Sun, 26 Feb 2006 16:10:16 -0500

Kenneth, it's great to hear from you.(I guess it's called hearing,even though I'm reading)
I found a copy of the original ARS on CD in California recently.( I had another one that I bought on the internet but I gave it to someone) if you'll send me your address I'll burn you a copy.
By the way it's kinda' crazy that you no longer play.I have memories of you being an OUTSTANDING player.
Best Wishes......Rodney

f
To:
"robert register"
Subject:
Re: "Cuba, Alabama" Solicits Your Feedback Before Composing Tonight's Post!
Date:
Mon, 27 Feb 2006 00:38:28 +0000

ROBERTO,

I REMEMBER CHARLIE SILVA. HE WAS A GREAT SINGER/DRUMMER/GREAT GUY. JOHN RAINEY REALLY LIKED WORKING WITH HIM. HE AND THE LEGENDARY ROADIE, MACKIE WHATLEY BORROWED ONE OF MY ZICKO SNARE DRUMS WHILE THEY WERE RECORDING 'BEAVER TEETH' AT STUDIO ONE.

I'D TOTALLY FORGOTTEN ABOUT THE DRUM. MACKIE SENT ME A NEW SNARE AND A KICK PEDAL LAST YEAR AFTER ALL THIS TIME.

GOD BLESS GREAT ROADIES!!

ONCE AGAIN THANK YOU FOR WHAT YOU DOOOOO!!!!

ROBERT NIX/ALISON HEAFNER...............................................


A little bird told me that ARTIMUS PYLE will make the cover of BMI's trade mag, BMI MusicWorld
From what I understand only '73 - '77 members of Skynyrd will be inducted March 13
As such, here are the members scheduled for induction March 13:
Bob Burns (drums)
Allen Collins (guitar)
Steve Gaines (guitar)
Ed King (guitar)
Billy Powell (keyboards)
Artimus Pyle (drums)
Gary Rossington (guitar)
Ronnie Van Zant (singer)
Leon Wilkeson (bass)


FRONT CD COVER



BACK CD COVER http://p220.ezboard.com/flimestoneloungefrm7.showMessageRange?topicID=241.topic&start=81&stop=89

And Last But Not Least, Babbs Let's Us Know He Don't Need No Stinking p'bits:



Date:
Sun, 26 Feb 2006 10:03:08 -0800
To:
"robert register"
From:
"capn skyp"
Subject:
Re: HEY HOPPER! Kesey's buddy, Babbs,THAT CD TRADING FOOL, is disappointed 'cause polderbits only works on windows...

actually, not having plderbits is no big deal for me because I go
straight from the turntable or the cassette deck or the reel to reel
or the microphone or the musical instrument or whatever right into my
mixer and into the sound card in my audio editing pooter, capture on
the hard drive, go into my audio editing program and when I'm happy
with the results start burning, baby burning.
kb
--
^^^^^^^^^^^^^^^^^^^^^^^^^^^^
http://www.skypilotclub.com/
skypilotclub
81774 Lost Creek Road
Dexter OR 97431