From:
chmh91@comcast.net
Sent :
Thursday, August 3, 2006 8:32 PM
To :
robertoreg@hotmail.com
Subject :
Bill Gilmore and The Candymen
Hi,
My name is Cherish Gilmore, I am the oldest daughter of the late Bill Gilmore
of the Candymen and The Classics IV. He also wrote the song Cherry Hill Park.
Just curious--I noticed you have some pretty cool pictures with my dad from the
Candymen days---did you know him? Today would have been his 66th birthday and
one of my sisters and I have been looking up stuff on the internet. I also was
interested in finding Robert Nix who I remember fondly as a child. He was the
best man at my father and mothers wedding and a close friend up until his death
in 1978. Do you know how to contact him? Please let me know.
Thanks for your time!
Sincerely,
Cherish Gilmore Harrison
CGH:
I never met your Daddy but I know a lot of people who knew him and loved him. This message is being forwarded to Robert Nix, Rodney Justo, Dean Daughtry, Paul Cochran and Buddy Buie. I'm including your email address because I'm sure many people will want to share their memories of your talented father with you.
It was my privilege to meet Billy Joe Royal on June 17, 2005 when he played Cowboys in Dothan. What a wonderful experience it was to hear Billy Joe sing
CHERRY HILL PARK.
I'm gonna go through the archives of "Cuba, Alabama" and pull up some comments concerning the great Bill Gilmore.
Best,
Robert Register http://robertoreg.blogspot.com
BUDDY BUIE:MUSIC OF MY LIFE, part II
http://www.orbison.com
As I said on the first CD,
Roy Orbison
was one of my true heroes. I heard him perform countless times. I'd stand listening to him sing from the wings of the stage and there was never a night that the hair didn't stand up on my arms. He was phenomenal. You can imagine how excited
Bill Gilmore http://crystalhorizon.com/Classics_IV/gilmore_tribute.htm, John Rainey Adkins
and I were when he recorded our song "Afraid To Sleep". It's a... In my book, in my repetoire, it was one of my finest hours even though it wasn't a big hit.
photo courtesy of
http://paulcochran.com
l.to r.:Alan Diggs, Chris Demarco,
Bill Gilmore
, Paul Cochran, Dennis Yost, Buddy Buie
AFRAID TO SLEEP
The night is still
The wind is chill
I hear the rain
Falling on my window pane
Can't close my eyes
Afraid to sleep
Cause when I do
I only dream of you
I'm trying to forget
We ever met
But how can I forget
And dream of you
Afraid to sleep
Because I'll dream of you
Afraid to sleep
Because I'll wake up feeling blue
If I stay awake forever
We'll never be together
So I'll close my eyes
Go ahead and dream
Sweet dreams
Sweet dreams
Sweet dreams
THE CANDYMEN, photo courtesy of
http://paulcochran.com
L. to R.- Dean Daughtry, Robert Nix, John Rainey Adkins, Rodney Justo, Bill Gilmore
FROM AN INTERVIEW WITH ROBERT NIX:
B.O.P. – In Britain, Margaret who ran the International Fan Club at the time, used to get inundated with calls from TV companies and such who wanted to interview Roy & he wouldn't do them. That helped to create the mystery and as one reviewer put it
"He comes, he sings, he conquers"
but then he's gone.
R.N. - I don't remember him doing interviews at all. A man of few words but he did tell some tit-bit things on stage, little jokes. I remember one about
Bill Gilmore
, our bass player. Roy says "You know Bill, we are really proud tonight, because Bill's wife, back in the US just presented him with a proud bouncing baby boy and I'd like for the proud father to stand up and take a bow" and we all stood up & bowed and Roy turns and murmers,
"You son's of bitches – Mercy, Mercy"
and he had these corny little jokes like "we just flew in and our arms are really tired".
Subject: Re: The Rocker Scolds Buie, Dean Shoots Us A Classic & Babbs Writes Psychedelic World History!
Date: Tue, 13 Sep 2005 23:29:26 -0400
I think that the club in Atlanta was actually called Pigalle which we being so sophisticated, pronounced Pig Alley.
In an earlier thread you asked about
Bill Gilmore
.
He was my pal.
When I joined the
Candymen
he was living in
Tampa
. (He grew up in
Sarasota
) Bill was a quiet person, VERY much unlike me, but when he spoke, it was like he had conserved his words so that they would be meaningful.
Originally, I think that we bonded because I could make him laugh. And he, being so quiet I don't think that people thought that he had a sense of humor, but man he ended up being funny as hell.
In those days Bill didn't drive. So that meant that when we left Tampa (if we were riding somewhere) I got stuck with taking my car and driving as well.Of course that also meant that he got to sleep while I drove.
We did however split the gas money.
I knew that I was gettin' screwed but I didn't care.
I think that Bill later learned how to drive and got a license but I can assure you I don't think that I would have ridden in a car with him at the wheel
We used to laugh about how cheap Bill could be and his famous saying (to us at least) to our road manager whoever it may have been at the time."Bring me back a dollars worth of food"(you could actually eat for a dollar back then) meanwhile the rest of us were eating like we were going to the "chair"
Of course Bill got the last laugh when he bought a big beautiful house in Atlanta with the money that he'd saved, while the rest of us were still living in apartments.
I was in Houston this weekend on the way back from San Francisco and of course they've had a new airport there for over 25 years,maybe 30,but my mind went back to Bill finding out that his wife had given birth to a baby boy while we were finishing up a date in Houston and we flew back from the old Hobby Airport to see his new born son,who we decided looked like Edgar Buchanan from Petticoat Junction.
Bill's first words upon seeing his firstborn.....sheesh.
He also had a stepdaughter from his first marriage.
Oh the stories that I can't tell...
But I can tell you that he got re-married and loved his new wife deeply,and loved his new family.
When the Candymen broke up Bill went to play with the Classics IV (some old friends of mine from Tampa also joined the band) and I was in Atlanta with the original version of ARS.
We never lost touch even when I left to go to New York and when I was in Beaverteeth.
Remember, that this was a time when believe it or not men didn't embrace. But Bill and I always shared a very warm and personal hug.
When he accidentally shot himself,.............forget it, it's indescribable
As I recounted earlier I was reminiscing about Bill this weekend.
These were just conscious thoughts.......I wouldn't bet that there's a single day that goes by that I don't think about him.
And others.
RODNEY JUSTO
GREAT PICTURE OF JOHN RAINEY ADKINS AND

THE CANDYMEN
backstage at Ft. Brandon Armory in Tuscaloosa courtesy of
http://www.wtbc1230.com/history.html
Left to right: Billy Gilmore, Rodney Justo, Bob Nix (top), Little Bobby Peterson(bottom), John Rainey Atkins
portrait courtesy of THE BILLY GILMORE TRIBUTE PAGE
Robert,
Jeff Lemlich has something that I didn't know existed!!!
I don't know if its the excesses of the 60s and 70s or early dementia but I would have sworn I never had a record on United Artist as an artist.
WRONG!!!
I thought I made a demo of these songs in order to give Wilbur an idea of how I wanted them sung.
WRONG!!!
If anyone out there remembers circumstances concerning this, please reply!!
I have a Bill Gilmore story which I'll share with you later.
Rock ON
Buddy Buie

BILL GILMORE third from left, DENNIS YOST next to last, BUDDY BUIE on the right
PLEASE CHECK OUT THE BILL GILMORE TRIBUTE PAGE AT THE CLASSIC IV WEBSITE!
http://crystalhorizon.com/Classics_IV/gilmore_tribute.htm
JIMMY DEAN REMEMBERS BILL GILMORE:
Hey Roberto
----About Bill Gilmore----
We all called him
Shakin' Bill
, since he stood rock still on stage. We (the James Gang and the Candymen) were always running into each other back then on the road since Buddy booked both groups, and often here in Dothan, so I remember Shakin' Bill well, but only knew him casually. I remember him as a quiet, introspective and obviously intelligent guy who was always friendly to be around. From the time I was around him and from what John Rainey told me about him, I realized he had issues inside known only to himself. The last time I saw him was somewhere backstage, probably in the late sixties I think somewhere in Tennessee. He was playing for the Classics IV and we were on the show too. He was gentlemanly as usual, but you know how it is backstage, hectic and such, so we didn't get a chance to talk. I liked Shakin' Bill, admired his bass playing, and was sorry when I heard he had passed away.
Jimmy Dean
JIMMY DEAN, BUDDY BUIE, ALL-AMERICAN GOOD GUY BILL J. MOODY, AND WILBUR WALTON JR.
photo courtesy of
http://www.recordresearch.com/Album_Photos/pages/Orbison_Roy.htm
On the
Orbison Way
, we did in fact, play on the album.
It was Bill Gilmore,John Rainey Adkins,Robert Nix,and me.
Playing Piano was Bobby peterson who preceded Dean Daughtry.Also on the dates was Bill Dees Roy's co writer singing background.
As far as the TWIST records with the Candymen I never heard of them until EBAY,and they of course have nothing to do with us.
From:
"Rodney Justo"
To:
"robert register"

Subject:
Re: HEY EL NIXO! HOW COME PAUL GODDARD PUSHES HIS GLASSES UP THE BRIDGE OF HIS NOSE?
Date:
Sun, 5 Jun 2005 09:12:45 -0400

I'll tell you a story about that WBAM show in Montgomery.
We were co-headliners with Sonny and Cher.
When I say we, I mean Orbison.
Well, Roy was the most docile and non-confrontational person you could imagine.
We were congregating backstage talking with some of the other acts that were on the show,( I think we were talking with the Mc Coys) but when Chers people started walking the backstage area where the dressing rooms were, saying that she wouldn't go on till the area was completely clear,Roy said in his soft south Texas accent "I'm afraid that she might be a little late for her show" meaning that he wasn't going to leave till he was good and ready.
I think that the Rubber Band was on that show and did "I can't help myself"
Robert also ran into Mac Rebanek, later known as Doctor John, who he knew from Jacksonville and was playing piano in Sonny and Chers band.



RODNEY THE ROCKER JUSTO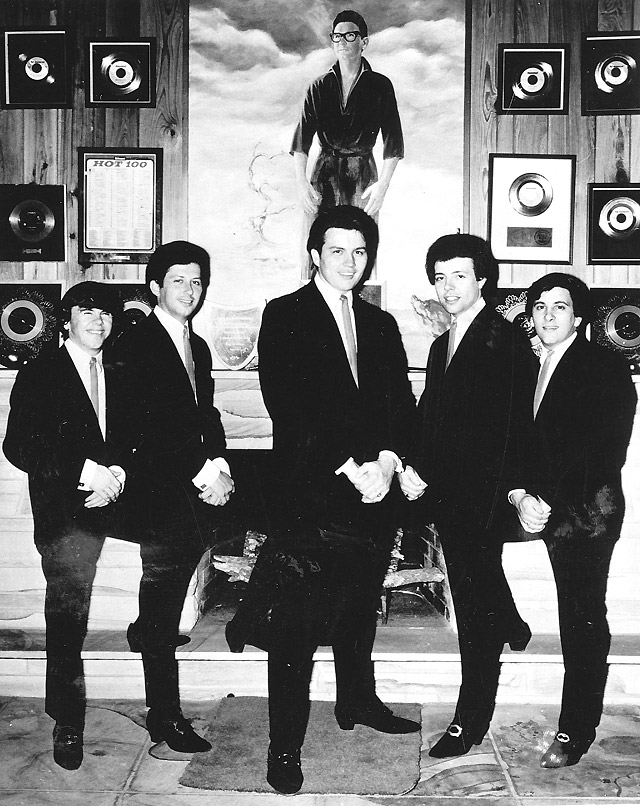 Bobby Peterson, Billy Gilmore, Bob Nix, John Rainey Adkins and Rockin' Rodney Justo at Roy Orbison's house before it tragically burned killing two of Roy's sons.
Photo © Rodger Johnson (long time road manager of the Candymen). See more of Rodger's photos in the book http://heybabydays.com



Rockin' Rodney
check out more of Rodger Johnson's

CANDYMEN

photos at Greg Haynes' "Hey Baby Days of Beach Music" website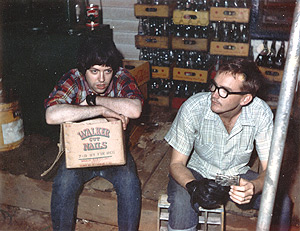 John Rainey Adkins and Rodger Johnson on the road!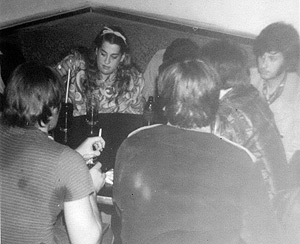 The CANDYMEN with Mama Cass Elliott at Steve Paul's THE SCENE IN NYC , Bill Gilmore is on the far right
photo by Rodger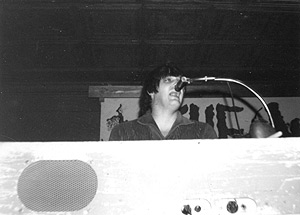 '67 Rodger Johnson photo of DEAN DAUGHTRY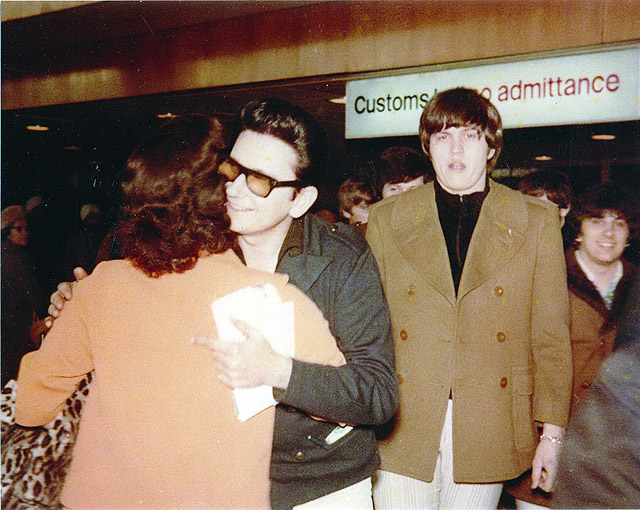 ROY ORBISON AND THE CANDYMEN arriving at London's Heathrow airport.
photo by Rodger Johnson ROBERT NIX, BILL GILMORE & RODNEY JUSTO in the background




The high school gym in Eau Claire, Wisconsin: November 11, 1964

The high school gym in Eau Claire, Wisconsin: November 11, 1964
found at http://www.jlindquist.com/rockit.html




November 11, 1964
FRESH FROM INSPIRING MY FOURTEEN YEAR OLD ASS AT THE NATIONAL PEANUT FESTIVAL IN DOTHAN


Mo' good stuff from Rodney Justo:

The photos shown with Orbison are with Bill Dees,John Rainey Adkins,Bill Gilmore,Paul Garrison,and Bill Sanford.
I also sang some dates with this lineup without Bill Dees.
Roy had some shows booked but since Bobby had just left the group they had no singer and they hired me independently to work with them for a few dates.




CLASSICS IV IN 1969: TOP ROW- KIM VENABLE[DRUMS-BORN,MONTGOMERY,AL.,FORMERLY OF K-OTICS], DEAN DAUGHTRY [KEYBOARD-BORN,KINSTON,AL.,FORMERLY OF CANDYMEN], ENGLISH WHITE [SAX], AUBURN BURRELL [GUITAR]
BOTTOM ROW- DENNIS YOST AND BILL GILMORE[DECEASED,BASS- FORMERLY OF CANDYMEN]



Bill Gilmore received his first amount of fame around 1965, touring as bass
player for Roy Orbison's CANDYMEN. The band also went on to record two
albums on their own for ABC Records. In 1969, Bill joined the Classics IV
to replace the founding bassist Walter Eaton after he was injured in a car crash in May of 1969. Gilmore became popular for co-writing the Billy Joe Royal smash "Cherry Hill Park"
with long-time friend, Robert Nix in 1970.

He remained with Dennis through 1975, when they signed off from their MGM record contract and management deal, making him the only other person other than Eaton to be with Yost's group for the longest period of time. His talent and contributions towards the band earned him the reputation of being one of the finest musicians around.

Bill will never be forgotten.



Bill Gilmore's daughters
Sunny, Sommer & Cherish with daughter McKaela