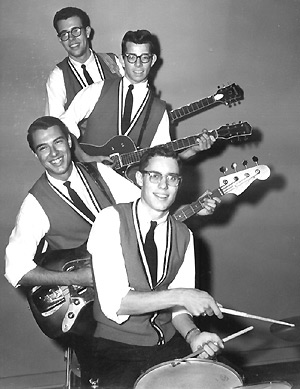 photo courtesy of
http://www.heybabydays.com
The Webs

top to bottom: John Rainey Adkins, Bobby Goldsboro, Amos Tindall, Dave Robinson
THE WEBS
: The Roots of Dothan Rock 'N Roll
THANK YOU
JIMMY DEAN
!!!!!!!!!!!!!!!!!!!!!!!!!!!!!!!!!!!!!!!!!!!!!!!!!!!!!!!!!!!!
www.myspace.com/adkinsjohnrainey
.

Roberto,

We have just reached 200 friends on John Rainey's MySpace page
with the addition of the band Borderline, which includes Jeff, who played in Beaverteeth. But, WE WANT MORE FRIENDS! So please ask my fellow Ninjas at Zero to request an add.
Muchas Gracias,
BQ
Hi, Robert,
Really enjoy your blogs! Lotsa memories of the Dothan music scene. Thanks to you, I've hooked up with some old friends like Frank Tanton and sadly learned about the passing of another great friend, Bill Akeridge.
I'm trying to find out what happened to another good friend of mine from DHS, whom I've seen mentioned on your site. His name is Bill Hanke. If you have any info about this guy, it would be greatly appreciated.


Best regards,
David Thornton